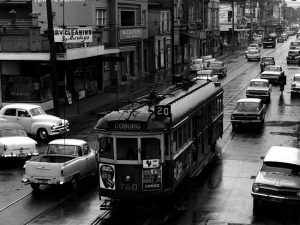 Coburg is located 8km north of the CBD north-side of the Yarra River. Coburg's boundaries are Gaffney Street and Murray Road in the north, Elizabeth Street and Merri Creekto the east, Moreland and Melville Road to the south, Devon Avenue, Sussex Street and West Street to the west. Coburg is centered around the Sydney Road shopping strip, which extends the whole length of the suburb from Brunswick through to Bell Street, Sydney road leads you through to the city, you can access the tullamarine freeway through Bell Street and Moreland Road leads onto the citylink.
In Coburg, you could buy a renovated Californian Bungalow or Edwardian in one of the suburb's highly sought after pockets for roughly $600k. Homes are typically 18 to 20 square and include at least three bedrooms, a formal lounge and a large kitchen/meals area, polished floorboards, a rear entertaining deck, established rear garden and off street car parking. Homes in this price range are usually restored to a high quality and include bay windows, leadlights and fire places. The suburb is highly culturally diverse with above average proportion of citizens born overseas and a high proportion of citizens who speak a language other than English at home.
The 34-hectare former Pentridge Prison in Coburg was considered Private consortium Grandview Square acquired the prison in 1999, with plans to develop it into a medium-density residential village, with some office and retail amenity. However in 2001, Grandview subdivided the site into two lots, now commonly referred to as Pentridge Piazza.
According to the 2006 Census, there were 23,722 persons usually resident in Coburg, 48.9% were males and 51.1% were female. 17.6% of the population usually resident in were children aged between 0-14 years, and 22.1% were persons aged 55 years and over. The median age of persons in the area was 35 years. 82.8% of persons usually resident in Coburg were Australian citizens, 33.7% were born overseas. 59.1% of persons usually resident in Coburg stated they were born in Australia. Other common responses within Coburg were Italy 8.4%, Greece 4.1%, Lebanon 3.4%, China 1.7% and England 1.6%. 45.7% of persons aged 15 years and over usually resident in Coburg (Suburb) were married, 39.3% never married, 8.9% separated or divorced and 6.1% widowed.
The Upfield railway line opened in 1884, and the Coburg railway station was built in 1888. In February 1889 the horse tram service began along Sydney Road. Electric trams started in service in 1916. The stations of Moreland and Coburg service the south of Coburg, while Batman and Merlynston service the north. These stations are all located on the Upfield railway line. Lake Reserve is a popular picnic spot on the Merri Creek. The land was purchased in 1912 and a weir was constructed in 1915 to form a lake contained by basaltic outcroppings. The reserve was immensely popular, with diving boards, wading pools, kiosk and gardens, and continues to be a favourite picnic spot, also accessed by the Merri Creek Trail. After World War I there was significant development east of Sydney Road, with the former East Coburg Primary School opening in 1926. In 1994 the 135-year-old City of Coburg ceased to exist when it merged with Brunswick to become the new City of Moreland. Prior to European occupation, the area around Coburg and Merri Creek was occupied by the Woiwurrung-speaking Wurundjeri of the Kulin Nation. The Wurundjeri had a religious relationship to their land, participating in corroborees and sacred ceremonies on Merri Creek. Three tram lines service the area. The number 19 tram service travels along Sydney Road from the terminus at Bakers road, North Coburg to Flinders Street Station in the city. While the scheduled service is 6-15 minutes apart it is frequently late due traffic congestion on Sydney Road. The number 1 tram service travels from the terminus at Bell Street, Coburg, along Nicholson Street, then Lygon StreetBrunswick East, Swanston Street past Flinders Street Station to South Melbourne, while the number 8 tram service travels from the tram depot on Moreland Rd, joining the number 1 route at the intersection of Moreland Rd and Nicholson St. While the number 1 turns to South Melbourne at the Arts Centre, the number 8 continues along St Kilda Rd to Toorak. The 55 tram from Domain Road south of the city centre serves the western part of Coburg via Melville Road, terminating at Bell Street. Cyclists have access to many on-road bike lanes as well as the Upfield Bike Path and the Merri Creek Trail. There are also buses and they all serve either the North West or the North. Route 527 is a very popular service as it serves Preston which is a Mecca for food and retail outlets in the North and is only a short 10-15 minute bus trip from Bell Street near Sydney Road.
Coburg was first surveyed by Robert Hoddle in 1837 – 1838, and he recorded that a Mr Hyatt had a sheep station and hut on the east bank of the Merri Creek, near present Outlook Road. Hoddle marked out a 327 acre (1.3 km²) village reserve with two roads for the district: Bell Street West and Pentridge Road, later called Sydney Road. In 1840 the place was named Pentridge by a surveyor called Henry Foot who lived and worked near Merri Creek. The main commercial activity in Coburg is the precinct between Coburg railway station and Sydney Road. Coburg doesn't have an enclosed shopping mall, though it does have four shopping arcades on the west side of Sydney Road. Coburg's main commercial precinct comprises bout 250 shopsThe commercial strip of Sydney Road is continuous from Coburg's southern neighbour Brunswick. Coburg has a variety of educational facilities. There is a special developmental school, four government primary schools (Coburg North PS, Coburg PS, Coburg West PS, Moreland PS), three Catholic primary schools and a Maronite Christian primary school. Australian International Academy is a private Islamic school providing primary and secondary education. The government secondary schools are St. Joseph's College (7-12) and Coburg Senior High School (10-12). Kangan-Batman institute of TAFE operates two campuses in Coburg.
The suburb is home to the Coburg TigersAustralian rules football club in the Victorian Football League, the suburb also is home to 3 Essendon District Football League clubs – namely West Coburg FC, Northern Saints FC and East Coburg FC (coming soon). Coburg also has basketball, cricket, tennis, baseball, swimming, table tennis, track and field athletics and soccer clubs.Major features of the area include the Sydney Road commercial area, the Moreland City Council civic centre precinct on Bell Street including the Coburg City Hall, the John Fawkner Hospital on Moreland Road, and Lake Reserve on Merri Creek. The suburb's most famous landmark is HM Prison Pentridge, which has recently been redeveloped into a housing estate. Land prices have risen considerably since 2001 with The Grove long regarded the most prestigious street in the suburb. Coburg was surveyed by Robert Hoddle in 1837–38 and he recorded details of the first white person living in Coburg. It was a Mr Hyatt who had a sheep station and hut on the east bank of the Merri Creek near present Outlook Road.
Sydney Road, Bell Street and Pentridge
Hoddle marked out a 327 acre village reserve with two roads for the district – Bell Street West and the other, later called Sydney Road. In 1840 the place was named Pentridge. The name was given to the area by a surveyor called Henry Foot who lived and worked near Merri Creek in 1840. Pentridge was named for the birthplace of Foot's wife: Pentridge in Dorset, England.
The oldest home in Victoria
Dr Farquhar McCrae was an extremely wealthy surgeon who purchased 600 acres in the area which he called Moreland. In 1841 he also bought land called 'La Rose'. The house built on La Rose in 1842 or 1843 (although it has been added to over the years) is the oldest known private dwelling in Victoria still standing on its original site and the fifth oldest building in Victoria.
The growth of Coburg
In 1884 the railway line opened, and in February 1889 the horse tram service began along Sydney Road (electric trams did not start running until 1916). In 1888 Coburg railway station was built. By l899 there were 6000 people in the district. In 1891 Passfield's bakery opened and W. E. Cash the plumber opened his store in 1898. In 1905, Coburg was gazetted as a borough, and Thomas Greenwood and his wife Martha became Coburg's first Mayor and Mayoress. The 1869 Public Hall was extended in 1909, but was still too small for the growing city. A Brunswick architect, Charles Heath, completed plans for new offices, a town hall and soldier's memorial hall with clubrooms. The new Town Hall opened in 1923. More was added in 1928, including a lounge area, space for a future library, a supper room, foyer and balcony.
Coburg Lake – a popular swimming and picnic area
The land that became Lake Reserve was purchased in 1912. A weir was constructed in 1915 to form a lake and the reserve became immensely popular, with diving boards, wading pools, kiosk and gardens. The Great War of 1914-1918 saw seven hundred Coburg men serve and 162 lose their lives. In 1919 Lincoln Mills began operating, and stayed open until 1980. The earliest 'moving pictures' screening was in the old Public Hall in Bell Street on 11 October 1910. The Lake Hall Picture Theatre opened on 29 June 1912 and continued until 1921. In 1927 the movies were shown at the West Coburg Progress Association Hall (later the Progress Theatre). Coburg finally gained a free library in 1952, housed in the Town Hall complex.